If you are working on PDF files and your files get corrupted or damaged due to some causes then you need a tool to repair those files. This product is intended to recover PDF file data from damaged .pdf (Portable Document Format) files. This program, which is used to repair damaged PDF file can recover the following: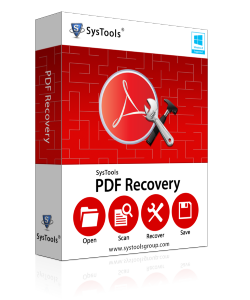 Content of PDF files. You can recover text, graphics, hyperlink and object forms used in the document.
Fonts and other meta data. This program is capable for restoring fonts and other meta data that is usually integrated into PDF documents for their correct rendering.
PDF file parameters. PDF files contain information about their version and page sizes. If the recovery of page parameters is impossible, you can manually add such parameters as page size and orientation.
Structure of PDF files. PDF documents contain tables of internal cross-links forming the document structure. If these tables are damaged, the document may end up being unreadable. The software is capable of restoring these data and links.
Effective Feature - There are so many effective features of this PDF recovery software which make it best among others. These are mainly:
It is easy to install
It is user friendly in nature
You can recover corrupted file data
It recovers deleted PDF file data
It can also recover highly corrupted PDF files
It works smoothly on almost all Windows versions including Win7
It costs very less.
Try The Demo of PDF Recovery Tool
Our PDF Repair tool gives you Free Demo version. You can download the Demo version of PDF Recovery Software and you can see PDF Recovery process.