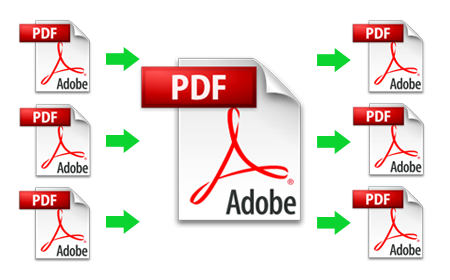 PDF Split and Merge
A quick approach to Split and combine PDF Files
Options to split PDF pages, by Even/Odd pages & range
Add multiple File (s) or Folder to merge multiple PDF Files into one
Works well with all kinds of PDF files and maintains originality
Requires Adobe Reader 11.0 or below version to split & merge PDF
Split and Merge File When PDF File Become Difficult to Manage
Finding difficulties in managing PDF? Searching for a solution to Split & Merge files effectively?
Overview of PDF Merge & Split Tool Features

Split & Merge PDF Documents
To manage the PDF, go for Split & Merge tool which allows you to split PDF file into multiple parts according to its number of pages. You can also combine PDF files into a single file.

Option to Split PDF File
In order to split PDF pages, the tool comes with different options for better processing:
Split by pages
Split by even pages
Split by odd pages
Split by range

Split Documents by Pages
With this option, users can split a single large sized file having multiple pages into separate files. The software saves the output PDF documents in a sequentially numbered way so that you can easily track your pages.

Split PDF by Even Pages
Using this option you can create a separate file for all the pages in even number of count. For instance; if there are 12 pages in your file, then using this option will create a PDF document for pages numbered as 2, 4, 6, 8, 10, & 12.

Split PDF by Odd Pages
The software splits up odd numbered pages of the selected PDF. For example, if you are having a file with 12 pages then the software will cr ate a file each for pages numbered as 1, 3, 5, 7, 9, & 11.

Split PDF File by Range
The software provides an option for those who want to split their file by range. Suppose, you have a 12 page file and only 5 pages from the middle are needed (2-7). Define a range for pages and the tool will ex ract pages that come within that range into different PDF.

Merge PDF Files
The software allows you merge "N" number of documents into a single one. You have the option to merge multiple PDF files into one document or you can add a folder of documents to create one single document of PDF. The source PDF files will remain unchanged from formatting.

Compatible with all Versions
The software is compatible with all the versions of Windows Operating System. Moreover, the Split & Merge application is capable of running smoothly with any version of Adobe Acrobat PDF files and requires Adobe Reader installation in System.
Order PDF Split & Merge Utility Online
Download Split & Merge Software
Install Demo version of Split & Merge software that allows the users to show the preview of the output files. Trial Version allows you to save the merged and split files but the output pages will have company's name watermarked over the pages.
Order Split & Merge Utility Online
You can order for licensed version of the tool through the payment gateways. We ensure you a safe and secure way of online transaction. Order the full version of the product to completely enjoy the benefits.
Software System Requirements

View Split & Merge Software Video - Product Working Demo
Frequently Asked Question
Can I use the software on my Windows 8 machine?
Yes, software is compatible with Windows 8.1, Windows 8, and below versions.
What is the Advantage of using "Range" PDF Splitting Choice in the Tool?
Add the PDF that you want to split, select the proper split options. You can select among several split options that are easy to understand and manage. For example, if you want to split your document into page ranges (e.g. 1-3, 5-12, etc), just select Split by range.
How to Merge Two PDF Files?
If you have number of PDF files, then you can also merge them all into a single PDF for easy management. Multiple files can be added one by one or a folder with multiple files can be selected for processing. The source PDF files will remain intact.
Is there any limitation on number of PDF files that I can merge?
No, there is no such limitation. You can combine any number of PDF files at once.
Client Reviews
"I really thank you for developing this tool. It's easy to use tool and I don't have to fear that I will lose the original PDF files as it does not bring any change in the original PDF files."
— Percy Rosario, California
"I wanted to split up a particular number of pages from my PDFs, but didn't think it would be possible with such an ease. When I found this tool, I was really happy. Using the split by range option I successfully got what I wanted without any difficulties."
— Brandon Jack, Australia
"A professional design and absolutely convenient to operate. It has better split & merge options. I downloaded the trial version and I was completely satisfied so I went for the licensed version."
— Stephaney, Germany
"PDF split and merge is brilliant. With this software, I had my PDF files split out in less time. It has a Simple interface and a wide range of options to split and merge the files effectively."
— Michael, Poland